Management Activities that Can Foster Efficiency
Achievement of efficiency in public sector organizations depends primarily on good management. All the general management activities found in typical public sector organizations (for example departments and agencies) can help achieve efficiency if appropriate management systems, internal controls, and best practices are put in place and properly implemented.
In this section of the Practice Guide, seven management activities that can foster efficiency are highlighted:
By clicking on the categories above, auditors can consult tables that provide, for each management activity:
a definition;
suggested questions that can be used as starting points to obtain knowledge of business about an entity or a program in the context of an audit of efficiency; and
suggested audit criteria that can be used to assess whether or not an entity or a program is meeting the objective(s) of an audit of efficiency.
More information on Knowledge of Business and audit criteria can be found in the Audit Methodology part of this Practice Guide.
Figure 3 illustrates how each of these management activities fits into the classic Plan-Do-Check-Act management model.
Figure 3
Management Activities that Foster Efficiency and How They Relate to the Plan-Do-Check-Act Management Model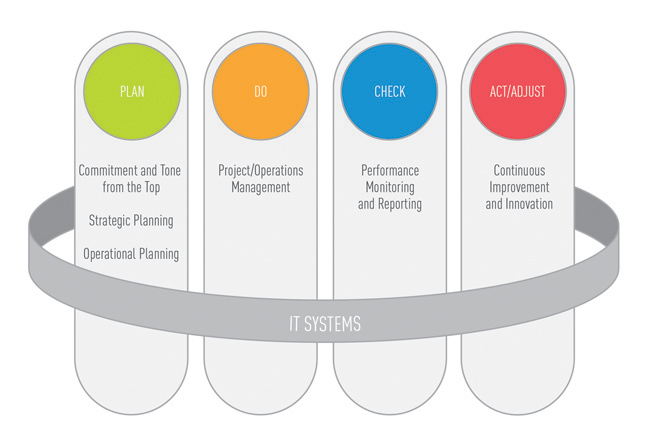 In addition to the seven management activities that foster efficiency, this section also defines four support functions in the table below. These support functions—financial management, human resource management, IT management, and asset management—are crucial for maintaining the day-to-day activities of any public sector organization. They support the seven management activities and make their efforts to improve efficiency possible.
However, for the purpose of this Practice Guide, these four support functions are not considered to be directly involved in the delivery of the programs and services that auditors would usually select when planning an audit of efficiency. For this reason, no specific audit questions and audit criteria are presented to support the audit of these support functions. That said, questions and criteria are provided for operational planning and IT systems, which cover certain subsets of financial, HR, IT, and asset management.
The Four Support Functions
Support Function
1. Financial management
Financial management is the function of an organization that is concerned with the efficient and effective management of money (funds), with the ultimate goal of achieving the organization's strategic objectives.
2. Human resource management
Human resource management (HRM, or simply HR) is the management of an organization's workforce, or human resources. It is the function responsible for the attraction, selection, training, assessment, and rewarding of employees, and for ensuring compliance with employment and labour laws.
3. IT management
All modern public sector organizations operate in an environment in which their personnel use various electronic devices, applications, and networks in order to do their work and achieve their objectives. The function of IT management is to continuously keep these devices, applications, and networks current and operational so as to allow an organization to pursue its business and deliver its services without interruptions.
4. Asset management
Asset management, broadly defined, is any system that monitors and maintains things of value to an entity or group. It may apply to both tangible assets such as buildings and to intangible concepts such as intellectual property and goodwill. Asset management is a systematic process of operating, maintaining, upgrading, and disposing of assets cost-effectively.