This library contains video clips that demonstrate how PAC members can ask effective questions during hearings.
The library is continually updated as new examples are added, so check back regularly.
You can submit a clip to the library by sending it to oversight@caaf‑fcar.ca. Please also include in your submission a short description of why you think it is an example of an effective question.
---
Clear Line of Questioning
Ontario

The member references a briefing from the auditor general and a question from a colleague.

Nova Scotia

The member provides some context to her question and then asks a direct, closed question.

Saskatchewan

February 9, 2021

The member asks a series of closed questions to confirm her understanding of the report.

British Columbia

November 7, 2019

Meeting: Consideration of the Office of the Auditor General's August 2019 report on the BC Government's International Directory Account Management.

An elected official uses a clear line of questioning to gather information.
---
Considers the Auditor General's Report
Ontario

The member directly refers to the auditor general's report to ask for additional information.

Prince Edward Island

June 15, 2021

Meeting: Review of the Report of the Auditor General to the Legislative Assembly, dated March 8, 2021

Directly cites the auditor general's report, looking for details on barriers to implementation of the recommendation.


---
Sharing Time Between Political Parties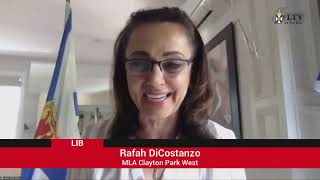 Nova Scotia
July 14, 2021
Meeting: Review of two reports: June 2020 Report of the Auditor General – Nova Scotia Liquor Corporation, Phase I; May 2021 Report of the Auditor General – Nova Scotia Liquor Corporation, Phase II
A member gives their time to another party so the deputy minister can finish answering the question.
---
Chair Intervention to Redirect Member's Question
Saskatchewan

A member strays into policy areas in his line of questioning. The Chair redirects his question suggesting it may be more appropriate for the education committee.

Ontario

November 25, 2015

Meeting:Consideration of the auditor general report section 4.05: Education of Aboriginal Students - 2014 Ontario AG's annual report. Delegation from Ministry of Education and three school boards.

The Chair redirects a question when it crosses into policy.