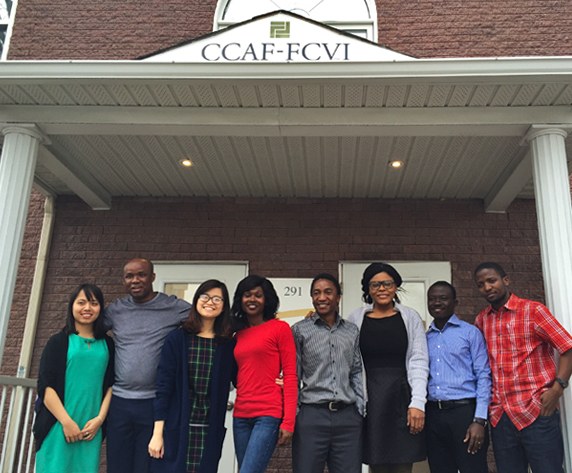 Thuy Dong; Georges Ebode; Ha Tran; Mary Arthur; Frank Mwalupale; Prudence Ngoujou; Kwaku Akyena; Frank Nyoni.
Congratulations to the 2015-2016 Fellows!
This May, CCAF and our international program partners celebrated the graduation of the 2015-16 Fellows. At a ceremony in Ottawa, we came together to congratulate the Fellows and thank the audit offices that hosted them for their nine-month Fellowship placements.
Office of the Auditor General of Canada
Kwaku Akyena – Ghana
Frank Nyoni – Tanzania
Office of the Auditor General of Quebec
Prudence Ngoujou – Cameroon
Georges Valery Onana Ebode – Cameroon
Office of the Auditor General of Alberta
Ha Tran – Vietnam
Thuy Dong – Vietnam
Office of the Auditor General of British Columbia
Mary Arthur – Ghana
Frank Mwalupale – Tanzania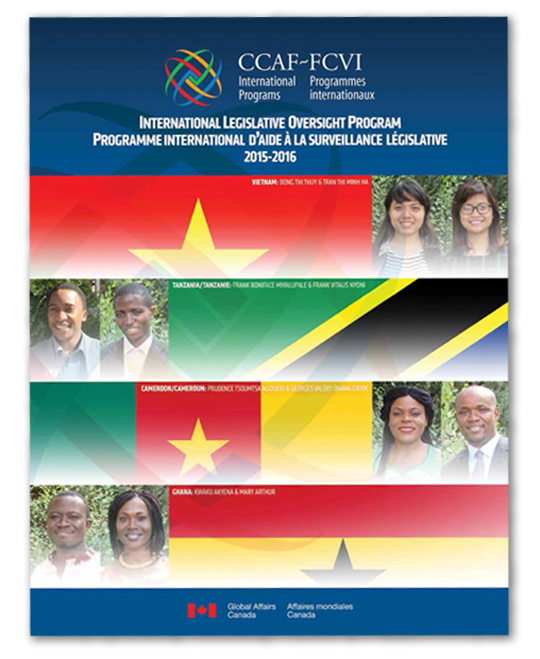 The Fellows each joined an audit team at their host OAG, where they gained on-the-job experience and learned about Canadian performance audit methodology. Additionally, each Fellow developed a plan for a performance audit that will be conducted in their home country. The Fellows worked closely with mentors at their host OAGs and at CCAF to develop high quality audit plans. Read more about the Fellows and their performance audit plans—plus recent highlights from other CCAF activities in their countries—in the 2015-2016 Fellows Biography Booklet.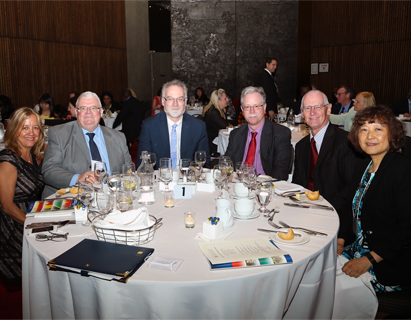 The graduation ceremony brought together many program partners to celebrate the Fellows' accomplishments. Representatives of the OAGs of Canada, British-Columbia, Alberta and Québec, Global Affairs Canada, the high commissions or embassies of the Fellows' countries and the CCAF Board of Directors all attended.
Left to right: Nicole Wieczorek, CCAF Vice-President, Operations and Stakeholder Relations & CFO; Ken Hughes, Auditor General of the City of Ottawa; Michael Ferguson, Auditor General of Canada; Mark Gawn, Director, Economic Growth, Governance and Innovation, Global Affairs Canada; Jim Sylph, Vice-Chair, CCAF Board of Directors; and Nancy Cheng, Assistant Auditor General, OAG of Canada, and CCAF Board member.
It was a fun but bittersweet evening. The Fellows were happy to have graduated and to be returning home, but sad to say goodbye to their Canadian colleagues and the many friends they made during their stay.
CCAF and the Fellows thank the four host OAGs, our funding partner, Global Affairs Canada, and all those who made the 2015-16 Fellowships a success!
Friend of the Fellows Award
This award recognizes partners who play a significant role in the CCAF international program and who go above and beyond to make the Fellows' experience both educational and enjoyable.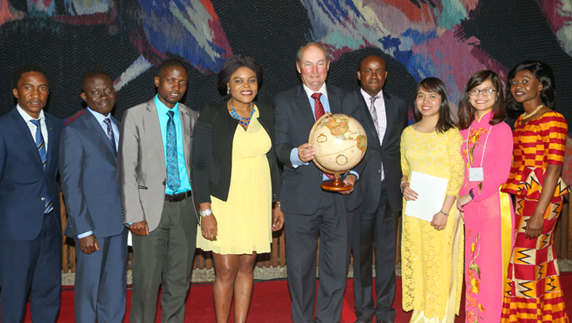 This year, CCAF and the Fellows presented the award to Michael McLaughlin. For the past ten years, Mr. McLaughlin has been a valued Associate at CCAF, where he has travelled abroad for the international program many times and has delivered training in Canada to the Fellows for several years. This past year, Mr. McLaughlin taught the Fellows' course on planning a performance audit and was involved in coaching all eight Fellows on the development of their audit plans. In presenting the award, the Fellows said they "feel fortunate to have learned from him," and that "his feedback helped us to produce projects we feel confident presenting to our Auditors General when we return home."