Collaborative Audit
Lessons Learned from the Pan-Canadian Climate Change Audit – 2016-2018
Featured Audit

Legislative audit institutions usually have broad mandates that allow them to audit many public programs and services in their own jurisdictions. However, when responsibility for a public policy area is shared with other jurisdictions (for example, natural resource management, education, or health care), or when important issues transcend borders (for example, biodiversity protection or climate change), the work of a single audit office cannot provide a complete overview and assessment of performance. In such cases, collaborative audits are useful tools for examining intergovernmental issues with greater depth and breadth than any audit office could achieve on its own.
In 2015, Canada's provincial and federal auditors general agreed to work together to examine government responses to climate change. Coordinated audits were undertaken in 2016, and a collaborative report was published in 2018. In this article, we briefly describe the audit project, and we present the key lessons learned during this landmark project.
Canadian collaborative audit on climate change
Climate change has been identified as one of the defining challenges of our time. The impacts of a warming climate and extreme weather events are already being felt in Canada and are forecast to become more severe and more frequent. For example, increases in the frequency and severity of wildfires and floods are expected. Beyond environmental and physical impacts, climate change is also expected to have significant economic and social impacts.
At the same time, Canada has missed two separate emission reduction targets (the 1992 Rio target and the 2005 Kyoto target), and it is likely to miss the 2020 Copenhagen target. In fact, emissions in 2020 are expected to be nearly 20% above the Copenhagen target.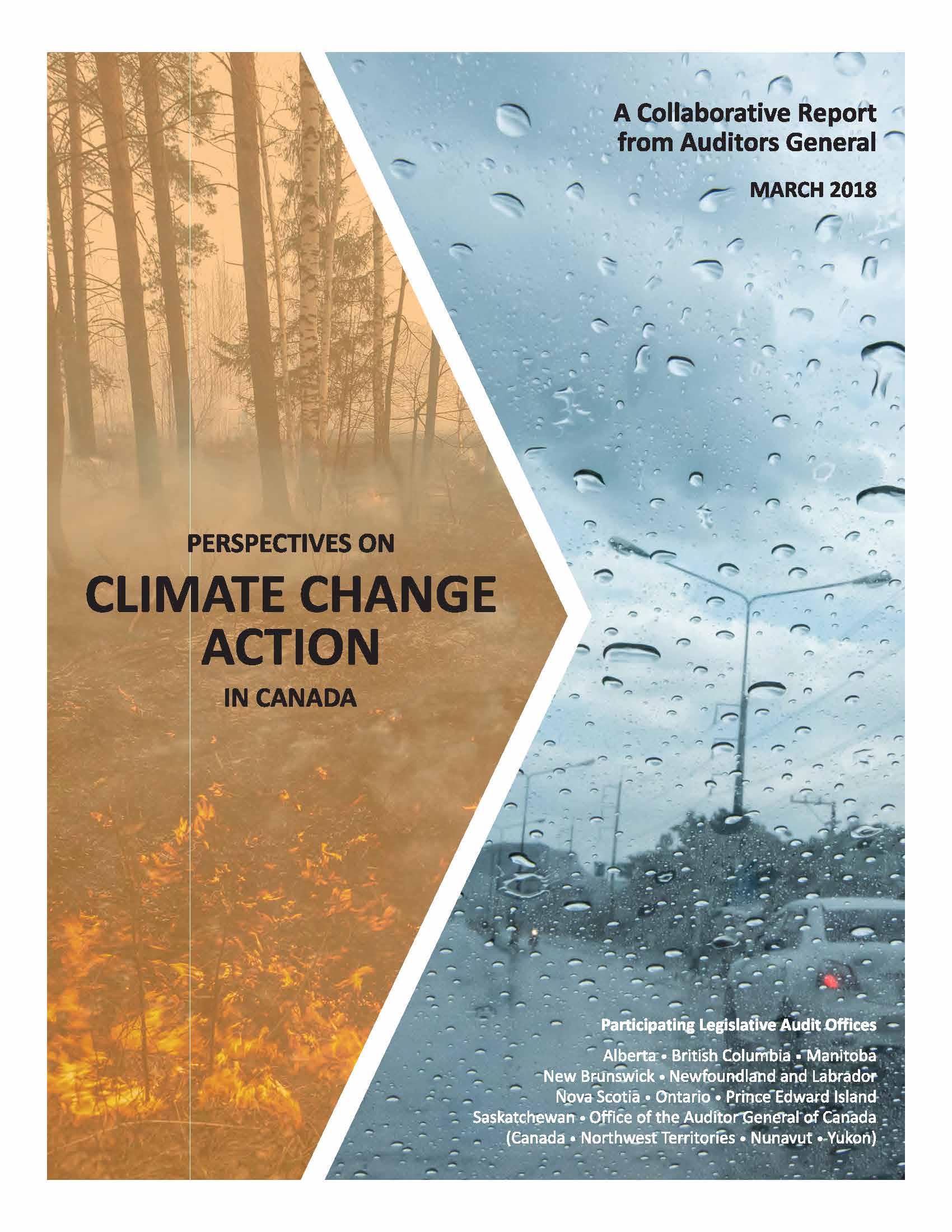 Given the importance of this issue and its relevance to all provinces and territories, the provincial auditors general partnered with the federal Commissioner of the Environment and Sustainable Development, through the Office of the Auditor General of Canada, to undertake audit work on the progress their governments had made on climate change action. (The Office of the Auditor General of Québec was a project partner, but it did not undertake new audit work because it had already completed recent work on this subject.)
In its role as independent auditor for northern legislatures, the Office of the Auditor General of Canada carried out audit work for the three territories. This was the first time so many legislative audit offices in Canada coordinated their work in this way.
The overall objective of this collaborative project was to assess whether the federal, provincial, and territorial governments had met their commitments to reducing greenhouse gas emissions and adapting to the effects of climate change. From 2016 to 2018, audit offices carried out this work and issued reports to their respective legislatures: nine provincial reports, three territorial reports, and three chapters by the federal Commissioner of the Environment and Sustainable Development. In March 2018, the project culminated in the tabling in Parliament of a summary report called Perspectives on Climate Change Action in Canada: A Collaborative Report from Auditors General.
Lessons learned during the collaborative audit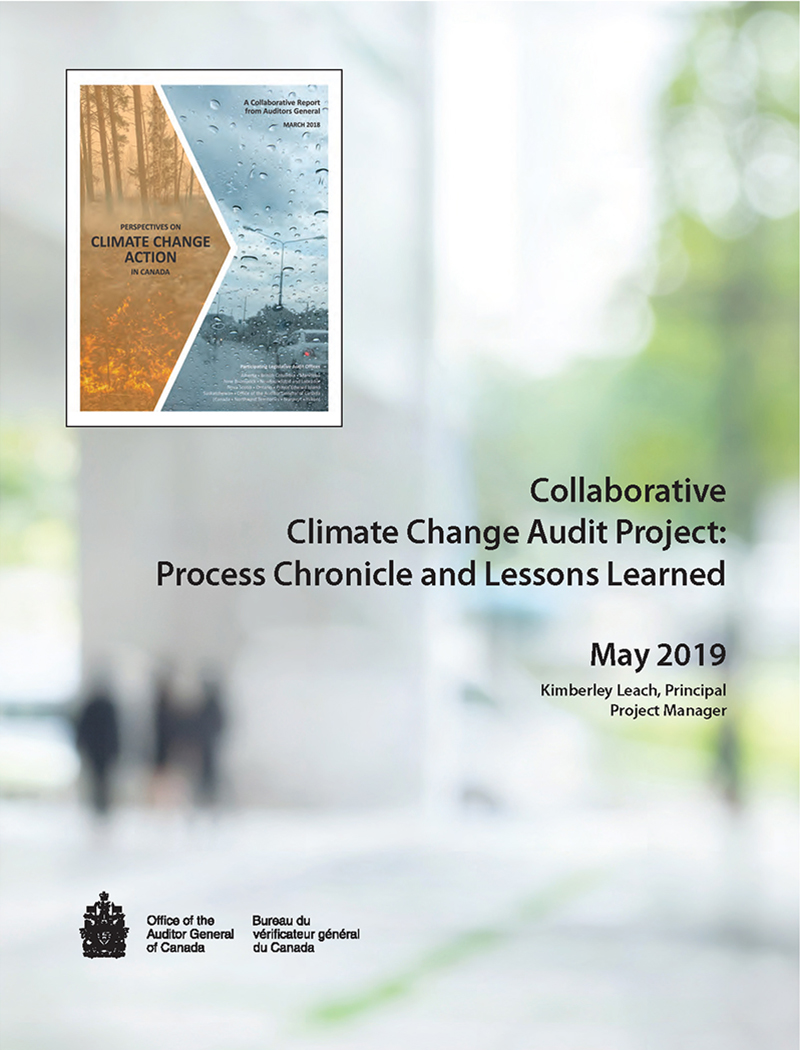 Soon after the collaborative report was tabled, the project working group members were asked for their perspective on the things that worked well and the things that could be improved with respect to the project. In addition, the Canadian Audit and Accountability Foundation surveyed the members more formally, both at the working level and at the auditor general level.
The information collected through the surveys and discussions was analyzed and then summarized in a lessons learned report, Collaborative Climate Change Audit Project: Process Chronicle and Lessons Learned, which was published in May 2019.
The lessons learned exercise provided many useful insights about how best to conduct collaborative audits. We present a summary of these insights in the following list of 10 key messages, which we believe may benefit auditors who undertake new collaborative audits.
Choose an audit topic that is important to all Canadians—one where all governments involved have made strong commitments and have plans and strategies to meet them, and where working together among jurisdictions to achieve them is necessary. The value added of collaborative work on climate change was clear to all parties in this case and was an important motivator.


Obtain buy-in and commitment from the highest levels in all audit offices before proceeding. In addition to getting approval in principle, it is critical to create a project charter that commits to a vision, resources, and timelines and to have the charter approved by all the participating auditors general.


Begin the project early—even earlier than you think you need to. Our project started two years before the planned tabling date of December 2017, and even then it was not tabled until 2018, because several jurisdictions had to move their tabling dates for a variety of reasons.


Designate clear leadership, both at a working level and at other levels. With so many participating legislative audit offices, credible leadership, vision, and commitment of resources and expertise was needed. Having one organization (the Commissioner of the Environment and Sustainable Development, in this case) lead the audit over the entire project was necessary for coordination and success. The Commissioner championed the project at a senior level; provided dedicated resources; provided valuable guidance documents for audit work; provided expertise in audit, communications, and editing; shared scientific and technical data; and created shared audit working documents. Furthermore, shared leadership during the reporting phase, where we established a communications committee composed of three auditors general, enabled coordinated and expedient decision making when we most needed it.


Ensure regular and structured communication throughout the project. The project working group had monthly phone calls throughout the project. Minutes were taken and distributed by email for those who could not attend every meeting. A secure and user-friendly method for sharing information and report drafts is important. In addition, learning how other audit offices work and making contact and establishing links have helped us to understand each other and to implement best practices.


Pay attention to early planning decisions for what the audits will include, especially considering the number of participating audit offices, in order to have comparable messages. It is useful to agree on a draft outline of the summary report early so that all can work toward it.


Engage subject matter experts. The Office of the Auditor General of Canada hired a subject matter expert to advise participating audit offices on specific matters throughout the project. We also convened the federal Commissioner of Environment and Sustainable Development advisory committee to get input from other experts to help guide the project. All legislative offices benefited from this expertise, and engagement with experts helped maintain credibility.


Understand differences in practices and methodology. Not all legislative audit offices do the same things in the same way. Knowing these differences and finding ways to work with them early is important. For example, the project working group consulted with legal counsel within their offices during the examination and reporting phases to help us decide what kind of information could be shared among us and when. Different audit offices have different practices on this matter, as well as others.


Table the individual audits as close together as possible. The time gap between the first audit report tabling (Ontario in November 2016) and the last (Nunavut in March 2018) created some challenges. Having more time for the reporting phase of the summary report would have been ideal, and would have been more possible if the offices had a tighter window for reporting their results before we started working on the summary report.


Embrace innovation and adaptability. We did not know all the answers to how this collaborative audit would work when we began the project, but we figured it out along the way owing to a shared commitment to doing something important and different. Thinking outside the box and learning as we went were critical to success. For example, in order to engage our partners and reach audiences outside of Ottawa, a webinar was held on tabling day to communicate the summary report to media, stakeholders (non-governmental organizations, interest groups, and other stakeholders), and the public. The webinar included a short introduction by the Commissioner of the Environment and Sustainable Development, followed by a question period that included the auditors general of British Columbia and Nova Scotia, and the principal of the Northwest Territories audit team.
Conclusion
Collaborative audits are important because we live in a highly interdependent and interconnected world. Collaborative audit work that includes different levels of government is the only way we can fully assess some issues, particularly in a federation such as Canada. In the end, what Canadians care about is not which level of government is responsible, but how the issue is being managed in their interests.
The pan-Canadian collaborative audit on climate change was a major undertaking that required sustained leadership and coordination. We believe that the good practices presented in this article contributed to the success of this ambitious project, and we encourage performance auditors planning new collaborative audits to adopt these practices for their projects.
About the Author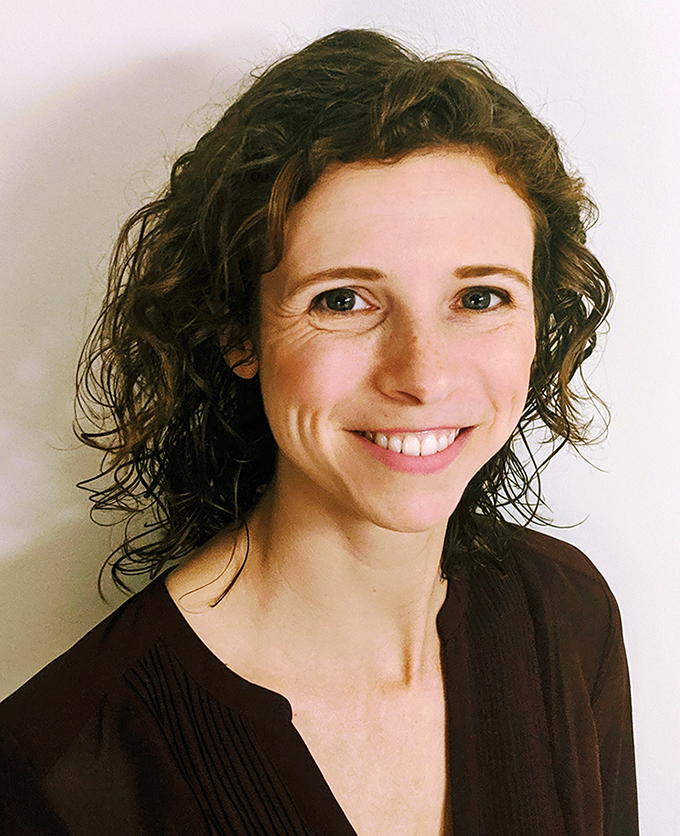 Kristin Lutes is an Audit Professional with the Office of the Auditor General of Canada, which she joined in 2013. In addition to working on the collaborative climate change audit, she has been involved in several other environment and sustainable development performance audits, including audits on biodiversity conservation and clean energy technology funding.
She has a Master's degree in Resource and Environmental Management from Simon Fraser University, and a Bachelor's degree in Engineering from the University of Guelph.
---
See more Featured Audits